A punching bag is one of those requirements many people are not attentive of, and it can lead to major concerns. It's important to mix up your approach to sport training and fitness workout, and one of the best ways to do this is with the help of a punching bag at home. Set it up in seconds, and you're good to go for a long time.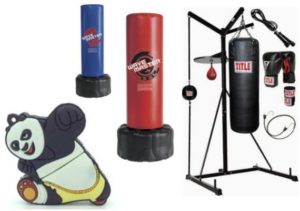 You can get a short overview about the best punching bag for beginners in the market:
Why we select these bags for beginners?
How people review them?
Just follow us to find the answer! Follow us to check the article of different punching bags highly recommend for beginners use, you can choose one fit your needs best.
Top 7 Best Punching Bag for Beginners
Top 2 Free-Standing Punching Bag for Beginners
A good free-standing bag can help you reduce stress levels, and besides that, you can also learn about and practice self-defense. You're building strength and confidence, but at the same time, you are also taking care of your cardiovascular workout.
You can also get a workout in more quickly, and while you're punching that bag like Rocky Balboa, you are also improving your coordination and balance. Those benefits of having a standing bag in your home are really starting to add up.
Below are two Best Brand Century Wavemaster series bags for you: One for junior trainers for sports, fitness, MMA and boxing use, and the other on is special for children who like boxing or just start to learn karate.
#1. The Original Wavemaster – The Best Seller Freestanding Training Bag
Some of the features that make this Wavemaster model the best option for many include:
   ♥  Few freestanding punching bags have this "7 Height Adjustments" feature, this is quite beneficial as users are capable of adjusting the height of the punching bag to suit their own height needs, improving the user experience. Special for beginners, just buy one for home, you can change the height for various punching and kicking training.
  ♥  Filled with foam fillings that help to distribute the force of punches and kicks. Not only longer the bags' life, and also protect your hand and fingers when your punching heavily.
Review:
This original model is the Most Affordable standing punching bag in the market. Speaking of money it is worth noting that despite the high-quality design and build, less than $150,  the Original Wavemaster is the cheapest in the Wavemaster series as well as in the freestanding bag market.
If you are looking for a beginner use punching bags for kids, there is the reference:
  ♥  Century has not neglected children; it has produced a punching bag that suits kids – The Kid Kick Wavemaster. This training bag is designed to offer kids high-quality training and exercising experience of kicking and punching, whilst at the same time ensuring maximum safety for the kids.
  ♥  In many regards, the patented Kid Kick Wavemaster is the best punching bag for kids to practicing mixed martial arts, boxing, taekwondo and related sports.
  ♥  The Kid Kick has a 4 height adjustment feature that allows users to adjust the height to meet their needs. Crucially, this feature allows the training bug to adjust its height with the height of the kids as he or she grows. Thus, parents do not have to purchase a new training bag every so often.
Notes:
Superior design and manufacturing ensure that the punching bag can last the entire childhood of its users, which provides great value for money. The Kid Kick is especially great for use by kids younger than 9 years. However, depending on the level of training, kids of ages 11 to 13 years may also find this bag quite useful.
---
If you were to walk into my mom's house years ago, my sister had a boxing bag in the middle of her bedroom. She also had a pull up bar installed in the house.
When I was younger, the private school I attended used to keep a blow up, stand up punching bag or doll for kids to hit that had anger issues when going to the office. That leads me to the next benefit of hanging up one of these punching bags in your home. And next you will see is easy mounted hanging bags for beginners.
Best Affordable Punching Bag And Stand For Beginners
For people like hanging punching bags, you have to make sure you hang up a bag like this securely and in the right area. You don't want it causing problems. You want to get all of the benefits mentioned above, and then you want to discover what else you are missing. You don't have to want to become a profession boxer to hang up a punching bag for your workouts.
Here are 2 best inexpensive heavy bag kits for you:
#3. Everlast Single-Station – Most Affordable Heavy Bag Stand with 70lb Bags
♦   Stand size: 57″L x 47.6″W x 88.2″H
Heavy Bag: 12″ diameter and 36″ in height.
♦   The kits include: bag stand, heavy bag, hanging kit, gloves, and wraps.
♦   The Everlast Single Station heavy bag stand comes in two formats. This version is designed to accept a 70lb bag, and it is super-easy to assemble.
♦   It is made from powder-coated steel tubing, and it has three weight pegs that can take standard sized weights, so the stand is nice and stable with a heavy bag attached to it.
♦   The kit comes with the bag, and also has an optional bracket mount for hanging the bag.
Notes: If you have the stand on carpet expect it to slide a bit when you use it; someone like couple of sand bags to put under to make sure it won't tip over. The gloves aren't super comfortable, but they are a good starter pair for beginners. Everything else worked fine, valued the price, so recommend to buy.
Everlast is a budget brand that makes many affordable punching bag products, Outslayer bag is a little expensive than Everlast. But the Outslayer have a better reputation about built-quality and filled, it's really worth the price. You can see plenty of YouTube videos, many schools and gyms use a Outslayer bag.
♦   Height 44″ plus another 12″ length of the punching bag straps.
♦   Top Quality 80 pound punching bag proudly Made in the USA.
♦   Comes With 10 Year Warranty Certificate.
♦   Custom add D-ring on the bottom of bag For Free.
♦   Durable for Outdoor use.
Great Hardness:
Made out of a special 300lb capacity material and filled only with fabric. If you don't like some bags at retailers make you feel like hitting a wall, this bag is nice, you can actually hit it bare fist, but it's perfect with gloves. The bag is perfect for beginners or intermediate users. Highly recommend to buy!
What to Look for in Buying Heavy Bags for Beginners?
Weight and Filled
When you're buying a punch bag, remember that ideally you should get a bag that weighs about half your weight (or more, if you are a strong, large person).
The bag should be filled with a material that will not settle, and that offers good resistance. Traditional leather bags with strong stitching are the best choice for people who are serious about their sport. You can get synthetic bags but they are more likely to tear or burst.
As for different beginners, some people do like sand (Even though it often settles at the bottom of the bag, making the lower part harder than the top), but water, foam and fiber are all good choices as well.
The Everlast 70 pound MMA heavy bag with gloves is an affordable bag set for beginners who like sand filled bags.
♦   The bag is stuffed with custom-filled synthetic and natural fibers mixed with sifted sand.
♦   The blended filler is specially made to provide flexible shock absorbance.
♦   Adjustable height customization chain
♦   Bungee cord for adding greater resistance to the bag
This kits include heavy bag gloves and wraps for protecting your hands against the abrasion of the bag, perfect for beginner and student trainers. You can check more details at Amazon:
---
Height and Size
Look for a bag that will hang so that you're punching the center of the bag with your jab. If you're aiming a lot higher or lower the bag may feel awkward to work with. Some bags have targets printed on them that you can use to aim kicks, punches, elbows, etc.
Human like Mannequin Bag with real head and shoulder is great for realistic training. There's not much point in paying extra for that sort of thing considering you can just tape targets onto a good bag yourself.
---
Hang
If you're buying a bag to hang, make sure that the straps are robust and stitched properly onto the bag, so that regardless of how you hang it, they will not snap or come loose.
There are 4 different ways you can hang a heavy bag: using a hook and chain to your ceiling, bracket and hangar to the wall, hanging it on a heavy bag stand, or durable shelf in your yard.
For people need one beginning thinner and weightier Muay Thai Bag to practice kicking and punching, the already filled Outslayer Muay Thai Bag 130 lbs is highly recommend, with comfortable filling and 130lbs wight fit most American males well.
Anyway you choose should fit your home condition. If you not have a strong ceiling or wall, not enough space for the bag swinging back and front, the free-standing punching bag can be a good choice. You can put it in a corner, or roll it away for storage. This type of standing heavy bag are easy to use, and space-saving, perfect for anything small room or apartment use.
---
Safety
Remember that if you're punching a heavy bag, you should wrap your hands and wear good gloves. It is easy to damage your wrists and your knuckles if you hit hard, repeatedly, especially if you're tired and your from slips, or if the bag swings back towards you unexpectedly. At Page of Best Choice Boxing/Punching Gloves you can find different types of gloves fit your need best.
Punch bags are a brilliant workout, and if you know what you're doing you can get a lot of technique work done with them, which is why they're such a good addition to any fighter's home gym – but just like squat stands and benches, they're not something you should skimp on. You need a good stand and a good bag for safety reasons.
Top 3 Beginner Punching Bag Comparison
Title
Everlast 70 Pound Bag with Gloves - Best Beginners' Bag Kits
Title
The Original Wavemaster – The Best Seller Freestanding Training Bag
Title
Kid Kick Wavemaster – The Best Option For Kids
Related Punching Bags You May Need: