The use of punching bags as a therapeutic way to vent off frustrations and excess energy for kids has grown in popularity nowadays. It is even one of the most recommended items by the majority of clinicians. In situations where you have hyperactive children or you simply do not have enough time to play with your kids, purchasing the best kids punching bag may be a wise decision.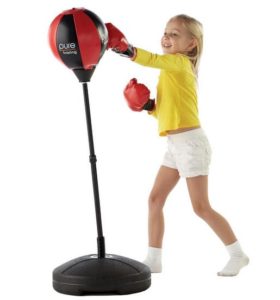 4 Question we will talk about in this article, keep reading to find the best punching bag for your kids!
How to Choose The Best Punching Bag For Kids?
What Things to Consider When Purchasing a Punching Bag for Your Kids?
What Is the "Best" Children Punching Bags in the Market?
Hanging Bag, Free-standing Bag and Speed Bag, Which Is Better?
Punching bags have been used throughout history together with swordplay as a basic training for military purposes. It is a sturdy bag used to improve strength, as a physical exercise, and as a stress reliever for some. Here is a list of high recommend best punching bags for kids, you can have quick browse to if you not have enough time:
Top 5 Best Punching Bag for Kids
---
Things to Consider When Purchasing a Punching Bag for Your Kids?
#1. Punching Bag Equipment
Hand wraps and boxing gloves are a must. Make sure you do not buy bag gloves that are too big for your child. Choose a lighter glove for your petite child and the heavier ones for an older child or teen.  If your kid is also training kicks in the bag then consider buying shin and instep guards also.
#2. Punching Bag Types
You may opt to purchase a freestanding bag, punching bag with stands or hanging bags. Freestanding bags and punching bags with stands are cost-effective and save space.
However, in the case of bag stands, although it allows a bag to swing, mobility can be a problem. Mobility is limited especially if your kid plans on drilling kicks and combinations.
A freestanding bag does not swing which diminishes the practice of rhythm, distance, timing, as well as footwork. Kid Kick Wavemaster is the best ergonomic designed heavy bag for kids use. Kids have the tendency to easily get bored with freestanding bags.
If your child is serious about his boxing or martial arts skills, a hanging bag to go with his size is recommended. It allows a high degree of mobility around the bag.
#3. Punching Bag Weight
Purchasing a punching bag too heavy for your kids may just be left unattended and not used very much. Kids are a competitive sort and love feedback.
The more the bag moves and swings about as they strike, they will feel empowered and the more they want to hit the bag some more. 2 ½ -foot punching bags are ideal for your child.
It is appropriate for small spaces and light training sessions. A range between twenty-five to forty-pound bags is good for your child's outset career in boxing. UFC Youth MMA Training Bag Set are someone of this kind.
Deciding on whether to purchase a hanging or freestanding punching bag is a big factor. If you live in a condo, apartment or you simply don't have space, a freestanding one like Tech Tools' Speed Punching Ball with stand is advised.
Storage is also not a bother, simply put in the corner of the room or in a closet when not in use.
A hanging punching bag is a better option for you if you have space and if your goal is to make it more fun for your kid. It is more realistic to fight because it swings and spins, helping with the timing, distance, hand-eye coordination and footwork. Since hanging bags produce vibration and noise when you strike, purchasing a hanging bag spring will help absorb the shock.
---
Review of 5 Best Kids Punching Bags in the Market
Below are two purchase options for your kids to help them with their punching needs.
#1. Kid Kick Wavemaster – Free-standing Children Punching Bag

This is a great introduction for your kids to be more interested in karate, boxing, kickboxing and other martial arts. It is made of durable nylon covered by high impact foam for the safety of your child.
Four height adjustments allow it a perfect fit according to your kid's size. It also has a rounded base for easy roll relocation. Price is mid-range compared to the same products in the market. The unit weighs approximately 170 pounds when filled with sand or water. It also comes with a one-year warranty.
The Kid Kick Wavemaster has several features that make it amply suited for kids, among them being:
 ♦   Height adjustment feature allows the training bug to adjust its height with the height of the kids as he or she grows.
 ♦   The Kid Kick Wavemaster is "all through the kids' childhood" punching bag. With this in mind, Century has designed this particular durability quality for long time last.
 ♦   The low profile base on the Kid Kick meets the ergonomic requirements for kids use. The free-standing design can avoid bag swing problem most hanging bag have. The base does not interfere with the kids' movements, whilst at the same time, it provides ample stability.
The Kid Kick is especially great for use by kids younger than 9 years, kids of ages 11 to 13 years may also find this bag quite useful. If your are very tall or power, we recommend you to buy a bigger bag or UFC hanging bag for better experience.
The set includes a 9.5-inch punching ball, made from a soft yet durable material, perfecting the balance of taking in a lot of punches without breaking. Included in the package are the 26.5-inch x 7.5-inch nonslip surface baseboard, the telescopic stand, and an added punching gloves for your kid. The stand can be adjusted from a height of 35 inches to 50 inches with ease.
 ♦   Punching ball with stand and gloves
 ♦   Height adjustable
 ♦   Great exercise & fun activity for kids by TechTools
The product is a great exercise and a fun activity for your kids. Its height can be adjusted according to your child's size. The spring mounted stand returns the punching ball after you strike and a piece of much safer equipment for your kid than hanging or swinging bags.
It is very cost-effective since your purchase includes the punching ball, the stand, and a pair of children's size boxing gloves. It is easy to assemble, the punching ball can be inflated in minutes and the stand constructed without any difficulty.
This standing peed bag is a fun option for your kids since it provides hours of entertainment while building your child's skills at the same time. It also fosters in building timing and speed and improves hand-eye coordination for your tot.
Humans are now gradually moving back to enjoying activities otherwise enjoyed by our ancestors. Yoga is gaining popularity. Others eat Paleo or increase their meditative techniques. Some are even open to traditional medicine and application of ancient wisdom.
Now, more and more folks are embracing boxing, which is said to be once a noble sport for kings. An active statement to get back to the basics amidst the bustling technological activities surrounding us.
♦   Dimensions: 29L x 9.5W x 9.5H inches.
 ♦   Weight: 8lbs, with web straps and chain loops for easy hanging
 ♦   Reinforced vinyl material durable for punching and kicking
 ♦   Gloves have a smaller fit and design made specifically for YOUTH mixed martial arts
 ♦   Also fit some adults and teens well.
 ♦   Nice Christmas Present all age children!
The bag itself might be 3.5 feet tall and weigh maybe 8 pounds. Good construction and looks great. If you have a bigger child that wants to have a "strong and big" bag for serious training, maybe not fit well.
♦   Inflatable 46″ tall bag is made of durable vinyl.
 ♦   Features a squeaky nose and "Bop Zone."
 ♦   Sand-filled base for bounce-back action.
 ♦   All the same great features as the original!
 ♦   It's great for kids or adults with a sense of humor.
 ♦   Got this for grandkids to play with. They like playing with and trying to sit on it.
This bag is a little creepy – definitely not recommended for someone who's afraid of clowns. It's in our family room and I'd be lying if I said Bozo hasn't surprised me once or twice in the dark. I could see it as a fun gag to hide Bozo in the shower or someone's office.
♦   Made in USA
♦   This bop bag with Machine Washable Fabric Cover
♦   Contains recycled materials, is BPA-free, and Phthalate-free (even the packaging is made from recycled materials)
♦   The cover is fairly thin and probably not offering much in the way of protection. The bunker itself is made of some pretty thick plastic. Durable for long time last.
♦   Great customer service: You can change or return for any quality problem.
Watch your kids and grandkids put the electronics down and get physically fit with award-winning characters who are ready for rough-and-tumble play.
Notes: Whether it be a freestanding punching bag or a piece of hanging equipment or a speed punching ball, it is vital to remember to let your kid enjoy this activity.
A good balance between safety and cost-plus the suitability of your surrounding are your major considerations. May it be for the purpose of alleviating stress, excess energy or frustrations, having the added factor of enjoyment may make a lasting impression on your kid.
---
Benefits for Buying A Kids Inflatable Free Standing Punching Bag
Are you thinking about buying a present for your children?
If you are, you should think about buying them an inflatable punching bag! You'd be surprised at the amount of entertainment the right punching bag can provide.
If you're not sure about what you should buy, keep reading. You'll soon learn all about the benefits of a punching bag.
#1. It Can Help Your Kids Get Exercise
A lot of kids aren't getting the amount of exercise that they need. Because there are so many electronics distracting kids, a lot of children don't want to engage in physical activities.
However, kids are naturally drawn to punching bags. Once your kids see the punching bag, they won't want to stop hitting it. They'll be able to get in a great cardio workout without even realizing it. Buying a punching bag can help your children to develop healthy habits later on.
#2. It's Easy To Set Up
Some exercise equipment — and some toys — can be a big challenge to set up. A lot of people struggle to get these things assembled. If you decide to pick up a free-standing punching bag for your kids, you won't have to go through much of a hassle. You'll be able to get things set up in a matter of minutes.
If you have access to a pump, inflating your punching bag will be easy. Before long, everything will be set up, and your kids will be able to start enjoying their punching bag.
#3. It's Affordable
Buying a heavy bag can cost quite a bit of money. However, an inflatable punching bag isn't going to be a big expense. You should be able to buy a high quality product without having to spend an arm and a leg.
It's important for parents to find affordable sources of entertainment for their children. A lot of children's entertainment is very expensive. When families are on a budget, they need to find cheaper ways to keep their kids happy and entertained.
#4. It's Something Your Children Can Enjoy Together
Because a free-standing inflatable punching bag is fairly lightweight, your children shouldn't have to use it one at a time. They should easily be able to enjoy the punching bag together. As a matter of fact, your children may be able to have fun if they hit the punching bag back and forth.
You don't want your children to fight over your punching bag. You will want to make sure that you keep all of your kids entertained. If you have more than one child, a single free-standing punching bag should be more than enough to keep them occupied.
As you can see, there are plenty of reasons to buy a kid's inflatable free-standing punching bag. While there are plenty of benefits offered by the right punching bag, the most important quality it offers is fun. If you do buy one of these punching bags for your kids, they're going to have a great time with it.
---
FAQ of Buying A Punching Bag For Kids
Myriad kids need a tolerable and convenient way to let out extensive and sometimes a lot of grievances and anger. Most pick up inappropriate methods for these.
Worst, some parents ignore this need or consider it to be not as important as the other needs of their kids. Without an outlet for children, they typically dump them to their parents (or siblings, teachers, peers) through various sorts of methods. Kids can be a tad artistic in many ways.
Purchasing a punching bag is not only a means to let out frustrations for your kid but it might be just the incentive you need to distract them from the television or their video games addiction.
It is also to encourage them to exercise in a very creative manner. A healthy way to control their aggression, punching bags can also help in developing self-discipline and determination.
However, boxing not only gives physical and emotional benefits but also offers mental advancements. Improved performance in the ring gives a confidence booster for your kid. Additionally, when punching a bag, extreme focus is needed. This can also translate to a better concentration in the classroom.
An added incentive for the use of punching bags for your kids is the health benefits they can get. Examples include the improvement of good reflexes and developing a better and stronger response to their knee-jerk reactions.
Any outdoor sports will do, however, but the use of punching bags is a more convenient option. In a world where increasing demand for video games and various indoor activities is the fad, developing good-reflex activities is highly disregarded.
Some parents are concerned that encouraging your child to play with a punching bag will make them hit other children more. This is far from the truth, however, most kids are intelligent enough to understand that there are rules and regulations to follow and consequences are a given against hitting or hurting someone else.
Nevertheless, times of extreme frustration and stress often resort to hitting walls and lockers, even other children, which will result in property destruction and personal injury. When given an adequate and acceptable outlet, children are happy to have the ability to control and manage their emotions, not to mention the added benefit of hand-eye coordination and extra physical activity for them.
Other parents' concerns are the safety risks for their child. Nevertheless, buying a punching bag is definitely safer than the popular belief.
Choosing a well-built boxing gloves can give great protection when your children punching, the Cheerwing children boxing gloves are highly recommend, most kids like the cute cartoon sparring dajn design. You can check more details at:
---
Tips for Using Children Punching Bags
More about the safety tips, you can monitor your child while they have their punching sessions and at the same time, it may become a bonding session for you both.
You can join your child's activity if you have the chance. Both the parent and child can enjoy the punching activities and heap the benefits it entails as well as foster a growing and bonded relationship with your child.
You have had your cardio training for a healthier you and your bonding session with your kid to foster a deeper relationship, hitting two birds with one stone.
---
Conclusion
The early man had to toil and sweat profusely for them to eke out a living, children were tuned to know that work was the only way to being successful. This generation, therefore, grew to be giant monsters and had an elongated life.
The modern-day society is more sedentary, and most of the work that would be a source of exercise has been taken over by machines. This has resulted in an unhealthier society and generally a very low life expectancy. Those that are lucky, have invented tactics that help work out the body, to give it endurance, eliminate toxic free radicals, and generally improve health.
One of the ways of keeping healthy is the use of a punching bag. We looked at the utilization of punching bags by kids in this time and age. Choose one best for your kids now!
Related Punching Bags You May Need: