The human shaped punching bags have been found very effective in specific aspects of martial arts training. Many people who are new to the arts and those who have been training with the conventional hanging bag have wondered about the possible advantages of these life-like effigies.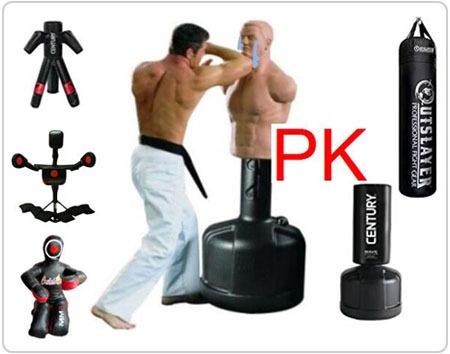 Do you know:
Why are man-shaped punching bags so popular?
Which is Right model human like bag for your fighting style technique practice?
Are you looking for a human boxing bag for more realistic feeling?
Are you strange at why people "HATE" poor BOB mannequin punching bag so much?
Which human like judo grappling dummy is best?
Take it easy! Now let's see the hot picks man shaped punching bags with different features, and then you may find out the right one make you getting better experience.
Following is an introduction to the biggest advantages of human shaped punch bags as well as the different options available for these specific MMA training bags.
Then you will see a review on two especially advantageous options for martial arts practice. It will be important to remember that different fighting styles are easier to practice on the man shaped bag. Personal needs and practice will be the determining factor in the type of bag you will use.
The 4 Best Human Shaped Punching Bags
Top 4 Mannequin Punching Bags Highly Recommend
The man-shaped dummy bag is a hefty bag that can be used for practicing everything from Judo throws to grueling ground and pound and much more. These techniques are essential to a well-rounded MMA training session.
The first is a free-standing punch bag with a serious demeanor and resilient nature: B.O.B. (Body Opponent Bag). This bag has a realistic face, neck, shoulders, chest and solar plexus. This is very important for learning to strike with strength and precision.
An amazing BOB punching video for you:
This sturdy polyethylene base can be filled to 270 lbs of ballast that will keep Bob in place while you perfect your technique and get a full upper body workout. This item can even be adjusted to the height of the opponent you are training to fight in an upcoming competition, or the height of your boss if you need a good release from a tough day at the office.
♥  Box 1 Torso approx. 44.5″ X 22.5″ x 11″ weight is 28.5 lbs
Box 2 Base approx. 48″ x 24″ x 16″ weight is 18 lbs
♥  Multiple height settings
♥  High-strength plastic body filled with urethane foam
♥  Round base easily for transport; 270 pounds of water or sand
♥  Excellent for home, apartment, school, gym use, and aerobic boxing. Perfect every punch and kick in your arsenal.
♥  Do not recommend using your bare hands as the texture of BOB can rub or irritate your skin after a few hits. Excellent accuracy training, but not a heavy bag replacement.
As people say: Unlike most heavy bags, the BOB Body opponent looks like a real person, have a life-like face, shoulders, chest, and stomach with six-pack. As a result, it's easier than ever to get motivated for your sparring session, with a long torso creating more striking surface for body shot training.
Finally, despite his ponderous weight Bob can be rolled about and set up easily for a spontaneous routine. He can then be stowed away for more space in your tight living quarters. This is the ideal item for the martial artist with limited living space.
PS:
For beginners and people under 5'10", we recommend you choose the BOB Body Opponent Training Bag  with head and shoulder and 6 pack.
If you are professional user, or taller than 6′, the BOB XL is just you need!
The Celebrita MMA Grappling Dummy can be selected to perfectly suit the requirements of the user.
Heights and weights range from 40 inches and 25 kg. To 70 inches and 50 Kg. This provides the best possible size for kids and adults which is important to precision training.
♥  The Dummy Bag Can be Weight Up to 40" 25Kg, 47" 35Kg, 59" 45Kg, 70" 55Kg.
♥  40″ to 47″ dummies are suitable for kids. 59″ to 70″ dummies are suitable for adults.
♥  MORE accommodation you can do: jiu jitsu and catching strategies, whatever other style MMA training.
♥  Someone say: When this dummy first arrived it does smell pretty bad, but  after setting it outside to get  "air out", it will be ok.
It has legs and arms that can be fully engaged in a number of different weights and are also especially heavy making them a good option for practicing the holds, throws and strikes that must be applied when the fighting is close.
The legs are also curved at the hips for a realistic introduction to Jiu Jitsu and catching strategies. Sprawl positions, turtle position and all types of ground and pound with fist, knees and elbows can be thoroughly practiced on the tough dummy.
This top quality product was designed by experienced MMA trainers and fighters looking for an alternative to the hook dummies and MMA dummies in existence. It adds a more sensible and intuitive aspect to learning the important maneuvers essential to MMA. This type of training adds serious value to a mixed martial artists practice.
A free-standing bag is filled with a heavy ballast and built of high-strength plastic. This is a good option for training the precision attacks of a Karate and Kung Fu fighting styles but will eventually be destroyed by the hefty power of Muay Thai kicks or Boxing blows. Not only the free-stand bag can be made in man shape, we also find a cool hanging dummy for you:
This is the only "hanging" man-shaped bag for sale, a great product for MMA, boxing and kickboxing training to the highest level with the most intense, realistic action ever.
♥  Unfilled. Size: 5'8"
♥  Weight: 70-75 lbs.
♥  The dummy is designed for full 360 degree maneuverability around the body for strikes, punches, kicks, throws, knees, elbows and more with or without the arms.
♥  Hardware for hanging dummy was sturdy and reliable.
♥  You can fill it up with towels, blankets, clothes, or any things you like.
More Money Saving!
You can hit in the face groin or kicked in the knee freely, its perfect partner for Krav Maga strikes. If you just need one punching dummy like this, click the below to buy one for home now!
4.  Century VS.2 Versys – Best Grappling Simulator for Martial Artist, Takedowns and BJJ practice
The VS. is the first grappling simulator to stand upright to allow for every upper or lower body takedown imaginable.
The Mixed Martial Artist, wrestler, takedowns, judo and BJJ athlete can perform a full range of combination takedowns or follow through to holds, arm bars, leg locks and reversals.
♥  The first grappling simulator to stand upright
♥  Great for Martial Arts, MMA, Judo, BJJ
♥  Works for takedowns, holds, arm bars, leg locks and reversals
As it is described:
As an adult, For standing attacks with any sort of power it's going to topple a lot. At the same time it's great for inside leg kicks and sweep kicks. The main use for this should be for sweeps and take downs. The Proman dummy is the best thing hands down for BJJ drilling and solo practice, especially when you are beginner BJJ students.
Important Advantages of the Man-Shaped Punching Bag
You can check tips below,  help you find the best matched standing, or hanging, or grappling dummy bag. The more realistic the training bag is, the better you can experience, do not you?
*.* Realistic Approach to Training
The first advantage of these training bags is the impressive realism that can allow a dedicated newbie to perfect punches and jabs. The extent of their "perfection" will of course depend on their commitment to improvement. But because of their realistic appearance practicing important precision palm strikes and ground and pound techniques is more intuitive.
This is because you can approach your "opponent" from various directions with a clearer perspective on the encounter. Furthermore, many of these bags have adjustable heights or weights that can make your training more specific.
*.* Practicality
One of the top benefits of the BOB punching bag is practicality. Whether you are using the freestanding bag or the dummy bag used to practice grappling, you will find that these are a lot more practical than the hanging bag. The suspension point is the first consideration, you will need a sturdy mounting device to suspend a 100 lbs punch bag from the ceiling.
The free-standing bag or dummy can be tucked into a corner and rolled out into place for daily practice. You will notice that these are not favored in gyms as they requires technique to properly use and deteriorate with improper use.
*.* Special Training for Specific Fighting Styles
You will find that the man-shaped bag is better suited to practicing specific fighting styles. For example, fighting styles like Muay Thai and Boxing focus a lot on the power and execution of kick (Muay Thai) and Punches (Box), these will be better performed on the conventional hanging bag. Other martial arts like Kung Fu, MMA, Jiu Jitsu and Judo as well as more traditional practices will get better use from the man-shaped punch bag.
In Conclusion
The man shaped punch bag provides an alternative training method for fine tuning specific fighting skills. The two different designs accomplish this in their own way. The freestanding Century Bob allows for practicing skills applied in the standing position and the Celebrita Dummy addresses many skills specific to various fighting styles.
The most important consideration will be your personal skill level. If anything, these bags are precision training tools and not nearly as durable as your conventional training bag. With this in mind be sure you are engaging in proper training if you don't already have experience in the necessary techniques.
The bottom line is, no bag is going to take the place of proper training and skillful instruction, the advantages of one of these man-shaped punching bags are quite important especially to self-defence techniques as well as MMA exercises.
Related Punching Bags For Other Needs: