Whether you are new to the sport or sharpening your skills for the next big competition, the MMA punching bag you choose will set your pace and affect your overall training. This is why you want to get the best bag for your skills, strength and techniques. But with so many different options in the market, the choice can be a little confusing.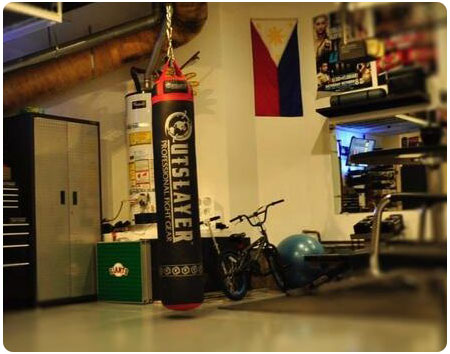 Which One Is Best to Choose for Beginners or Porfessionals?
Who Is the Best MMA Punching Bag Manufacturer?
How to Choose Right Weight and Height Bag?
In this following article we will discuss the three most common types of MMA bag as well as why one would be selected over the other. We will also explain how the weight of the bag you choose should be precisely selected for your needs. Finally the best MMA bag material will provide practicality or realism to your training experience.
Top 8 Best MMA Punching Bags for Training
So without further introduction, here is what you need to know when shopping for an MMA bag.
Different Types of Bags Of MMA Training
You will find two type of bags for MMA training, these are
hanging bags
and
free-standing bags
. Most of the
Muay Thai bags
are hanging bags specially designed for kick practice and are usually pretty heavy. Obviously, the bag you will choose should closely address your training needs.
Hanging Bags —
Be sure you select a sturdy point from which to suspend your hanging bag, where you can train consistently. Unlike the stand up, the hanging bag can't be moved about as easily. The hanging bag will swing to a certain extent and this is good for practicing your timing, accuracy and speed with a fair amount of realism. The weight is also positioned better in a bag than in a weighted-down standing bag, which will imbue a fine cadence to your striking performance.
Everlast makes very budget bags in this type, if you need, you can buy one Everlast bag with ceiling hanging, stand hanging kits with gloves in cheap price, very great for beginners use.
– Everlast 70-Pound MMA Poly Canvas heavy bag for outdoor
– Everlast 70-Pound MMA Heavy-Bag with gloves, wraps and bugee kits
– Everlast Single-Station Heavy Bag Stand with 70lb Bags and gloves kits
Muay Thai Punching Bags —
This style of bag is longer and thinner than most other hanging bags and specifically designed for practicing the kick in many different forms. While this is not exactly an MMA bag, many practitioners use the Muay Thai bag especially for practicing high and low kicks. If you are looking for special kick practice this is a good option, if you will be throwing combos of punches and kicks a regular hanging bag will do better.
For Muay Thai bags, you can never go wrong with Outslayer, all of their bag are ergonomic filled, comfortable for punching and kicking, and the hot picks are:
– Outslayer – Boxing MMA 100 Pound Black Heavy Bag filled
– Outslayer – Muay Thai Heavy Punching Bag 130lbs already filled
– Outslayer – Muay Thai Punching Bag 6ft 150lbs (unfilled)
Free Standing Bags —
Mobility is the first advantage of the standing bag is that you can pull it out when in use and easily slide it back leaving space for other routines. It is also very versatile and can be used for punching and kicking as well. Many can even be laid on the floor to perfect ground and pound execution with elbow, knee and fist strikes. The biggest issues is the somewhat unrealistic weight distribution, furthermore the padding is not as good as in the hanging variety, strike hard enough and you will feel the hard base within.
If you want to buy free-standing bags for MMA training, the best brand you can choose should be: Century. Here are top 2 model for you reference:
– Original Wavemaster freestanding training bag is recommend for people below 5'11 who want to do some heavy bag work, or a cardio workout.
– Wavemaster XXL recommend for people above 6′- 6'1″+, great for power people who need a larger bag or professional training.
As we know the Century is be good at Free-standing bags, next you will see is another high quality and well-made brand, Outslayer for hanging bag.
---
Short MMA Hanging Bags – Best Brand Outslayer Reviews
As our research on the common use MMA hanging bags, the most recommend all come from Outslayer. Their hanging bags are great filled in different size and weight for different people use. Whatever you are beginners or intermediate users, the must be one fit you!
Bag Height is 55″ plus Additional apex 10″ of the Length of the Straps, no chains needed.
If you would like a D-ring on the bottom of your heavy bag, to secure to the floor or sand bag, Add for Free!
100lbs when shipped plus you can add extra weight if needed. Material capacity is 300lbs.
10 year warranty
The Filling:
It's cloth NOT sand/sawdust. We know the disadvantages of bags filled with sand is that the sand eventually settles at the bottom of the bag making for an inconsistent density through the bag, unless you want to hassle with pulling you bag down and flipping it over on a regular basis. And when you punching the bag, it will bounce back at you, of course, with bad punching experience.
So even this Outslayer bag is a little more expensive than the budget brands like Everlast, but considering Outslayer seems to have a better reputation, it's really worth the price. You can see plenty of YouTube videos of complete boxing/MMA classes/gyms use an Outslayer bag. People choose Outslayer for different reasons, but we can see that the Outslayer bag have excellent features for use, apparently they are popular for their fair prices and great quality.
Height 44″ plus another 12″ length of the punching bag straps.
Made Out of a Special 300lb Capacity Material and Filled only with Fabric.
Top Quality 80 pound punching bag proudly Made in the USA.
Comes With 10 Year Warranty Certificate.
Custom add D-ring on the bottom of bag For Free.
Durable for Outdoor use.
Great Hardness:
Don't like some bags at retailers make you feel like hitting a wall. This bag is nice, you can actually hit it bare fist, but it's perfect with gloves.
This bag was filled with synthetic material, cut, not shredded. It is packed very densely. The result is that the bag is rather springy. When you punching, the bag absorbs the impact instead of bouncing back at you.The bag is perfect for beginners or intermediate users. Not much else to say, good product, good price. Highly recommend to buy!
We make a quick check list below for all best Outslayer MMA Bags for you, click title to check reviews.
Choosing the Best Weight MMA Bag
Hanging Bags Weight
— As a general rule, you will want to select a bag that is exactly half your body weight. Women and children should select a bag in the 40 – 50 lb. range. If you are over 180 lbs, you would probably do better with a 100 lbs. or more. One "Important Thing" to remember is that the hanging bag will swing when you punch it. A little swing is great for working improving timing and precision. A bag that is too light will swing too much and can adversely affect your rhythm. If you have especially powerful punch, you will need a slightly heavier bag so it will be sturdy.
>> Best Hanging Bags Reviews <<
Free standing Bags Weight
— The free standing style will have a weight listed on its label and are usually higher than you will find in a hanging bag. Nevertheless the weight will work more as a counterbalance to your strikes and the closest weight up from half your weight will usually be just fine.
>> Top Pick Freestanding Punching Bags <<
Muay Thai Bags Weight
— Longer and heavier than a hanging bag, Muay Thai bag can be used for kicking practice. Most people are fine with the conventional 100 lbs. Bag. If you are exceptionally heavy or strong, you might want to make it slightly heavier.
You can choose these bag of different weight below:
---
Long & Thin Muay Thai Bags -Best Recommend In The Market
Like this video?
Keep reading! To find the best quality weight/size Muay Thai bags for your level, we have chosen 3 models muay thai bags for you:
Synthetic leather construction
Includes heavy-duty chain
Weight: 100 lbs.
Size: 13″ x 72″
Custom add D-ring on the bottom of bag For Free.
Used in most Martial Arts Schools and Gym, for kicking punching heavy bag
Well made: The bag is exactly as described. Constructed well from synthetic leather, it has one seam that is sewn very well and tightly.
Softness: You can actually hit hard without a glove leaving your knuckles intact which makes it much more friendlier than a canvas bag.
Note:
1. The bag I purchased is 6′ long so make sure you have enough room to hang it or order a shorter one.
2. This is a very good bag for beginner to intermediate, highly recommend this bag for classes, and general purpose use. More experienced users may find it to be a bit light and need bigger heavier bag.
This Outslayer heavy bag is "Best Seller" on amazon with high 5 star rated. It is cool looking, affordable ( under $140 ) and great in quality. The filling of the bag is dense textile and feel great both for punching, striking or kicking, Highly recommend this bag for both gym and home use.
Made in US
Weight apex 130lbs.
Muay thai bag height is 6ft (72 inches) tall and another 12″ are the straps with D-rings.
Included with this Muay Thai Bag is a 10 Year Warranty Certificate
It also has a ring on the bottom so you can anchor it to the floor or with a weight if a swinging bag is an issue to you.
Reviews:
The 130lbs + heavy bag weight is ideal for a muay thai bag. The heavier the punching bag the more weight resistance it creates, preventing the heavy bag from excess swinging. Due to the high material durability, you can add more weight to this muay thai bag if desired, up to 300lbs in total, you can refill it by yourself.
Muay Thai kick boxing mma punching heavy bag is designed for professional and gym use.
Made in USA.
Comes with 10 year warranty certificate.
Muay Thai bags measure 14″ in diameter and 6 ft in height.
Weight: designed for 150lbs, only with fabric can reach 300lbs.
Heavy duty chrome covered D rings 4 straps are attached to the punching bag, No additional chains needed.
Filling Tips:
You can use any filling you prefer, we recommend using only fabric, i.e.: bedsheets and towels. Using sand or soil for a heavy bag will eventually cause the contents to settle and solidify at the bottom of the bag, making it impossible to use. It takes about 320lbs of rice.
This bag is great quality, thick walled with very sturdy stitching. It sale less than $90 unfilled, but it's great conditioning for your shins, and perfect resistance to work on proper fist striking mechanics.
---
Choosing the Right MMA Bag Material
One of the biggest contributors to your overall training experience will be the materials from which your MMA bag is made. There are some specific advantages to the three most common materials used in MMA bag manufacturing.
Leather Bags
— This is the high-end option use by the finest martial arts practitioners. The greatest feature is the natural feel when striking the bag compared to the two other options. Those who like to train bare-knuckled will appreciate that leather bags won't cut up your skin on impact. The obvious disadvantage of the leather bag is the high cost for even the cheapest option.
Vinyl Bag
— There are top-quality vinyl bags that provide a leather-like experience. Of course, in time you will notice a greater and greater difference between genuine leather and old vinyl. Nevertheless, vinyl is considerably cheaper can be quite durable, making it the most popular MMA bag in the market today.
Canvas Bag
— At the bottom of the material list sits the canvas bag. Striking a canvas bag with no glove is asking for bloodied knuckles. While the effect of hitting a canvas bag is not as pristine as hitting a leather or even vinyl bag, you will find affordability to be the primary selling factor of the canvas bag. A damaged canvas bag is no problem to replace.
If you will be suspending your bag in the back yard for example, a canvas bag will not deteriorate if rained on occasionally. Leather and vinyl must be kept indoors to protect them from sun and rain damage. When the deterioration is complete, a replacement can be found fairly easily.
Best Affordable MMA Bags – Top Everlast Brand Reviews
For people need a cheap canvas bag hanging outdoor, you can try this Everlast 70-Pound MMA Poly Canvas Heavy Bag at about $60.
Weight 70lbs, 53″ height and 13.5″ diameter
Shell constructed from super tough and rugged poly canvas.
Specially blended filler provides resilient shock absorbency
Double End attachment for greater resistance
Adjustable chain to accommodate all size of users
Warrants: Everlast warrants its products to be free from defects in materials and workmanship for a period of 120 days from date of purchase, provided they have not been subjected to obvious abuse, neglect or misuse.
Reviews:
This is a well made bag and some as advertised, it can hold some beatings and keeps going like nothing happened. Light enough to take off the ceiling mount and do some ground and pound with it.
The bag fits 185lbs person well, but recommend it for someone smaller, maybe closer to 140lbs or 150lbs is better.
If you just need a MMA punching bag for fun, or do some fitness workout, there is another affordable Everlast 70-Pound MMA Heavy-Bag Kit for you reference:
Kit includes: 70-Pound, heavy bag, heavy bag gloves, and 108-Inch hand wraps. The gloves will save you lot and can use it when arrive.
Heavy bag stuffed with a custom filling of natural and synthetic fibers blended with sifted sand
Adjustable height customization chain
SBungee cord for adding greater resistance to the bag
This bag is well made and heavy. The gloves are cheap but you should invest in good gloves if you want to box or hit the bag. Buy the kits together will both save your money and time.
Unless you're buying professional quality bags at 5x the price, they're all going to be around 3ft in length. That is the average strike area on an American male. The chain allows you to adjust the height to suit your needs.
Reviews:
This bag kits is not great for multiple users or for kickboxers, since you'll have to adjust the height each time.
In Conclusion
These are the most important details that will affect your training with an MMA bag. Remember that consistency is the key to mastery, so be sure you choose a MMA bag and exercise location that will inspire and motivate your efforts. The final factor will be the filler you choose to fill your MMA bag.
More Related Punching Bags You May Need: