Are you planning to buy a treadmill for working out at home? There are multiple brands of treadmills on the market, but not models can work for you. Treadmills come in different designs and styles to fit both home and commercial areas. This means that a home treadmill is designed differently with a commercial treadmill used in gyms in weight, the material, and even the programs.
But generally, when choosing treadmills, there are a few things that you need to consider to make sure you buy the right and durable model. Here are essential things you need to look for when choosing a treadmill.
What to Look for When Buying a Treadmill for Running?
Your needs
What do you want to achieve with the treadmill health-wise? This is the first thing to consider when choosing a treadmill. Since the workout equipment comes in different designs and programs, you need to make sure the kind of treadmill you select will fulfill your purpose.
For example, if you need a treadmill that monitors your heart rate, facilitates weight loss and toning, ensures to choose a model with a heart rate monitor, has various programs to adjust when working out and has a high resistant level to determine when working out. Ensure the type of features and settings the treadmill has to see if they will fulfill your workout needs.
Space
The treadmills are made in different sizes, whereby some are crafted in bulky modes while others are made in a portable or foldable design. Your space at home will determine the size of the treadmill to buy. So, before you head to the market for shopping, check out the size of the room to make sure the treadmills will fit and still leave enough space for movements.
Do you need a treadmill that you can keep away after working out? Then you need to consider getting a portable treadmill that you can swiftly move to different areas. Some treadmills are crafted in a foldable form whereby you can reduce the dimensions for convenient storage in small spaces at home.
The available programs
The number or type of programs available on a treadmill determines the workout effectiveness you can achieve from the equipment. Do you need equipment that burns calories, tone the body, and even facilitate quick weight loss? Well, make sure to choose the treadmills that have all these programs.
Some treadmills are designed to incline to a distance 1 to 3 degrees while others do not tilt. Other models of treadmills have workout programs, which include; running, varying speed intervals, resistant adjustment, among others. These kinds of programs help you create the appropriate workout resistance for significant running results and achieve the right results.
Recommended Treadmills with multiple programs
The weight limit
This is a crucial factor to look out for if you buy a treadmill to be used by more than a person. Although the workout equipment is made with strong and stable materials, they have a weight capacity limit that they can conveniently accommodate. The treadmill weight limits range from 200 to 600 or more. For example, home treadmills may have a weight limit of up to 300 since it is less used and is not operated by multiple people.
However, ensure the model you choose can accommodate your weight and the person's weight to share it with. If you are buying a treadmill for commercial areas, you should select a heavy-duty model that can accommodate multiple weights. This is because various people will use the treadmill, and hence, it should adapt heavyweight. Good gym treadmills should be able to hold a person weighing up to 600 pounds.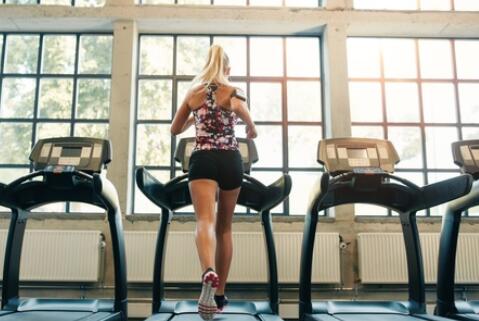 The display design
The display also referred to as LCD, is the treadmills that display all the settings and features on the treadmill. The majority of treadmills have the LCD to show you your workout progress and your heart's health. Some models display the calories you burn, the fat you burn, the speed, the distance you cover, and the heart rate.
Some brands may also show the number of pounds you lose or your body mass per workout. If you need a treadmill that monitors your workout consistency, check out these features on the LCD. Note that not all treadmills and made with and LCD, especially the portable models.
The size of the deck
When running, especially if you are tall, your comfort is hugely determined by the size of the deck. The deck is the space on the treadmills where one runs at. The standard treadmills have a deck size of 20 x55, which fits most people, although others have large dimensions of up to 22x 60 or more. Just make sure the treadmills you select have a large deck to provide comfortable running space that fits your legs.
Your budget
How much have you set aside to buy the treadmill? These workout equipment are sold at varying prices depending on the size, the built, brand, and the available features. Commercial treadmills or a treadmill with multiple features and programs are more expensive than lightweight and straightforward treadmills for home use.
So, if you are planning to acquire a treadmill that provides numerous workout opportunities, make sure to choose a model that has the right features and programs. If you are shopping on a budget, check out the available brands or models within your budget to choose the treadmills that fit your workout needs.
Check out the operational model.
The treadmills come in two different types, which are the electric and manual treadmills. The manual treadmills are powered by one's strength, whereby you have to move the belt when running physically. This type of treadmill gives great workout results since they offer multiple resistance levels. But, they are not convenient for people who need a treadmill with varying resistance levels.
The manual treadmills are functional throughout since they don't require any power source. The electric treadmills have different workout programs to choose from, but the resistant level is not as much as the manual ones. Also, they can only function with battery or electric power.
Conclusion
These are the most crucial things you need to look out for if you need to buy a treadmill for running. Your workout goals should guide you in choosing the right treadmill. Make sure to purchase treadmills that have a warranty for quality assurance and durability guarantee from the manufacturers.