A treadmill can help you stay fit and lose weight while improving the health of your cardiovascular system. Some people choose to buy one for home use, while others prefer to take a gym membership and do their workouts there. Although both solutions can work very well, there are many differences between commercial and home-use treadmills. When searching to buy one, the first thing to consider is its purpose, as the two types are different in terms of features and price. Anyway, this article is going to show you the benefits of getting the best commercial treadmill on the market.
What Is the Best Commercial Treadmill on the Market?
Why Commercial Treadmill?
Commercial treadmills are of high quality and are built with the ability to withstand long hours of daily use. For many manufacturers, its warranty is valid when the treadmill is used up to 6 hours per day. Alongside its long-term value and delivering top-notch performance is as well making some home treadmill shoppers prefer them over residential treadmills.
Commercial treadmills meet the needs of the trainees as they are ideal for multi-personal households by offering high weight capacity and suitable for runners and walkers. Their make for diversity provides a good range of workout programs and extras a time with console choices, including advanced workout technology and streamlined.
Things to Look for in Getting Best Commercial Treadmill
There are 3 areas that you have to be keen on before choosing a commercial treadmill as you will notice differences in different types of commercial treadmills. These include:
1. Treadmill belt
You have to consider a high-quality belt as it has a significant impact on the service longevity of the whole machine. If the treadmill belt is not designed correctly and is of low quality, it will not be long before you are forced to replace the whole treadmill. Belt of high quality should be infused with silicone so that it is not demanding constant lubrication. When it is lubricated, it will run smoothly through the machine giving steady and quiet experience to the users.
2. Treadmill deck
The treadmill deck is responsible for absorbing the user's weight as you run or walk on it. It plays a significant role in the provision of a comfortable and smooth ride. The two main features in the deck that you have to consider are the deck shock system and the deck size. The deck size should be large enough to provide optimal comfort and consider decks that are wider in size than the standard ones as it tends to make the user feel less cramped.
3. Treadmill motor
A commercial treadmill contains a higher continuous horsepower rating motor than the home treadmills. This enables it to support ongoing use and able to accommodate heavy individuals. This as well allows it to withstand high-intensity training, as one can train in full capacity with no worry over the machine.
Commercial Treadmill Price
Most of the commercial treadmills come with high price tags attached to them of about $3,000. Before making a choice, it is important that you find out the key features contained in a given product as you can get the most appropriate model that you need at a low price. As well price can fluctuate in the market as a result of changes brought by the demand of products.
The high price tag doesn't guarantee good quality commercial treadmills for you; prices fluctuate over time, look for useful features like; the durability of the machine brought about by the quality of materials used, advancements in service delivery and technological designs, size and up to what weight can it capacitate and other important attachments, features differ from one model to another.
How Long Do Commercial Treadmill Last
Generally, most commercial treadmills are designed and built to last; their coverage can be about 1000 miles in a year, and manufacturers boost up to 10 Km or even more miles before realizing part failure. Commercial treadmills should reach ten years of quality operation when proper care and maintenance is observed whenever necessary. The lifespan of any exercising equipment is related directly to the amount of appropriate care, maintenance, and use of the machine. When the treadmill properly cares for, it can even last a lifetime.
Importance of Cardiovascular Workout with a Commercial Treadmill
There are countless health benefits when training with the treadmill; this includes weight loss, reduced insulin resistance, and heart strength. A treadmill as well gives options for heart rate and blood pressure monitoring to those who have such complications as it determines how much exercise they need to do daily. Using a treadmill reduces stress on the body than when training outdoors. Aerobic exercises help to protect blood vessels and heart diseases by maintaining a low density of lipoprotein and boosting the good level of cholesterol.
Best Commercial Treadmill Brands
There are a lot of treadmill brands all over the market, and it is for you to make a choice. Here are top commercial treadmill brands you can consider.
Lifespan
This is one of the best when it involves treadmills as their products are simple and can handle a great load of workout. They can sustain you to run for long hours and give you the service you need and contain built-in speakers that can be installed to give entertainment while working out on it.
The Livestrong
This is one of the most popular brands across the globe for fitness products and apparel. They provide different types of fitness accessories, and if you want to purchase a high-quality commercial treadmill, they offer variety for you to make a choice. They have products that can provide up to 15 inclinations that can give you a challenge during workout times.
Preform
Contain different series of treadmills, as well as all of their products, have ProShox cushions that allow you to comfortably train on it. Their products are safer for you to do workouts as they are modified to eliminate the tendency of your ankles to sore due to the impact between feet and the belt.
Nordictrack
Their equipment is suitable for those who want to train up to extremes. This treadmill has the ability to incline to 40 degrees and is good for trainers who love running uphill. The products offered here are of high quality and able to serve for a long period of time.
Reviews of Best Commercial Treadmill
A Commercial Treadmill is exercise equipment designed to withstand intense activities. It is generally built with heavy and quality materials for less maintenance. This equipment can be an option for a home treadmill too. Commercial treadmills are used to improve one's cardiovascular endurance, exercising leg muscles, strengthening, and to tone the users' bodies.
Here are detailed reviews of commercial running treadmill:
This treadmill comes with an interactive iFit program that guides your workouts. It comes with free access to the iFit service. The treadmill has a smart incline control to intensify your workouts. The adjustable speed can reach up to 10 MPH.
It comes with Bluetooth connection to help adjust the treadmill's speed using the iFit. The treadmill can mimic a real terrain. The sturdy tablet holder ensures that your phone or tablet is safe as you work out.
The quiet and powerful motor has noise reduction properties. It's foldable for portability and storage.
This treadmill comes with the interactive training iFit app. It comes with a one-year free membership to the iFit service. The treadmill comes with a 10-inch HD touchscreen display that shows the progress of your workout.
The FlexSelect Cushioning protects your body from injuries in case of impacts. The EKG grip sensors monitor your pulse and give you stability as you run. The self-cooling technology prevents the treadmill from overheating, preventing wear and tear.
The treadmill features a powerful and quiet motor that's perfect for running, walking, and jogging. The treadmill can easily fold to save space after exercise. The speed can be adjusted and can reach up to 10MPH. The treadmill also comes with automatic incline technology.
The Bowflex comes with a strong motor that produces 3.75 CHP. The burn rate console allows you to monitor your speed, time, incline, calories burned, and heart rate. The monitor motivates you to train harder. The wireless chest straps offer convenience as you train.
The treadmill comes with Bluetooth connectivity to help you log in to your stats. The console can sync with the mobile app and other apps. The USB port allows you to charge your phone as you work out. The nine preset programs provide a wide range of exercise routines. You can focus on distance, calorie burn, interval training, and heart rate control.
The wide and thick is not only durable but also provides a great running experience. The three-ply construction is not vulnerable to stretching or ripping. Another advantage of this treadmill is the large rollers that prevent the motor from overworking.
This treadmill comes with a 3.75 CHP motor that powers the treadmill. The 10-inch colored display helps you track the progress of your workouts. The treadmill also has 2.5-inch rollers that boost the durability of the treadmill.
You can control the speed of the belt digitally using the LED screen. The treadmill has an adjustable speed of up to 12MPH. It also comes with a digital incline control.
ProForm treadmill has 50 preset programs to help you diversify your exercises. It can accommodate weights of up to 300 pounds. The EKG grip pulse gives you stability while monitoring your pulse.
ProForm manufacturers offer a Limited lifetime warranty for the motor and frame. It also comes with a two-year labor warranty and a 5-year parts replacement warranty.
The 400i treadmill is ideal for home usage and comes with a 2.0 CHP quiet motor to power. In addition, the treadmill has 50 preset programs to intensify your workouts. The 7-inch display screen allows you to track your work out stats.
The treadmill also has an adjustable speed range of 0-10 MPH. It can accommodate up to 300 pounds and has 1.6-inch rollers for balancing precision. The EKG pulse grip has inbuilt sensors to monitor your pulse rate. The motor has a 25-year warranty while the parts have a one-year warranty.
This is probably the best 'value for money' treadmill that you can get in the market. It comes with a 3.0 CHP motor that is powerful and silent. The motor can reach speeds of up to 12MPH.
The treadmill also has Bluetooth speakers that enable you to listen to your favorite music as you work out. The sturdy tablet holder allows you to watch videos or track your workout progress. The equipment has a 15-level incline, making it suitable for walkers and runners of all abilities.
This treadmill comes features the iFit service to guide your workouts. It also allows you to interact with other people on the platform. The treadmill has a 10% smart inline control, allowing you to perform more intense exercises. The smart 12 MPH one-touch control enables commanding the treadmill easy and super first.
With its Bluetooth feature, you can adjust the treadmill automatically to match your trainer's recommendations. This adjustment is to mimic the real-life terrain enabling you to be more engaged in training. Additionally, there is a holder integrated into the treadmill that will hold your tablet and smartphone when training. The treadmill is spacious with a belt of 20 x 60 inches in dimension to offer you enough space to exercise.
There is reduced noise that makes you more focused on your exercise and a self-cooling technology to maintain high performance when jogging and running. The designing of the treadmill made it to a simple space saver that you can easily fold for storage.
The Horizon T 101 has a 2.5 HP motor that moves at low Revolutions per minute to reduce noise. The 3-layer cushioning protects your body from impact, allowing you to enjoy your workout sessions.
The treadmill is Bluetooth enabled and can be connected to your phone or tablet. It comes with built-in speakers for entertainment as you work out. Other features include the tablet and water bottle holder. It also has a fan and power-saving mode, making the treadmill different from the others.
Most people prefer NordicTrack treadmills because of the iFit service. The good thing is that this model comes with one-year membership access to the iFit service. You can interact with other people while personalizing your workout.
The HD Touchscreen display monitors your workouts. It helps you track the speed, distance, pulse rate, and calories burnt. You don't need to worry about impacts because the C590 comes with a FlexSelect cushioning. It allows you to do more intensive exercises without worrying about injuries.
The machine comes with an automatic incline technology. The 10 MPH speed can be adjusted to fit the intensity of your workout. The spacious tread belt reduces vibrations, reducing the noise produced as you hit the belt.
The C590 motor comes with self-cooling capabilities. It also reduces noise, ensuring that exercise without disturbing others. The powerful motor can support walking, jogging, and intensive running.
The treadmill is foldable, making it easy to carry and store. The EasyLift Assist helps you lift the treadmill without straining.
Advantages of The Best Commercial Treadmill Machines
The first thing to know is that gym machines need to work for 8 to 10 hours a day, almost every day. Home use ones are only used for 30 minutes to one hour per day, and this may not even happen every day. This means the materials, the mechanisms, the parts and the accessories of these machines are radically different. Commercial ones need a much better endurance and resistance to effort than home use ones.
More inexpensive but with a higher price
This fact has direct implications on the price, as better endurance requires more expensive materials and other types of mechanisms and operating principles. This doesn't mean home gym machines are low quality, but only that they don't require such high parameters as the other ones. It's much more convenient for home users to pay less and still do everything they need on their fitness equipment rather than paying a lot of money for things and features they may never need.
Here is best-rated commericial treadmill machine with cheap price on the market:
9 Built-in workout programs; 3 options of incline levels
large LCD display and smartphone/tablet holder
Max user weight: 220 LB; Largest 22″ x 60″

surface
For people with a tight budget, you can check here for Best Price Treadmill for Money Saving, and Buy the Heavy Duty Treadmill fits different weights.
Fits many types of clients
The other thing to consider is that a gym has many types of clients. A treadmill might be used by tiny women, by tall athletes or by heavily overweight persons. Since there are so many possibilities, the machine should be adjustable to fit a wide range of heights and weights. When you install a treadmill in your own home, you don't need such a wide array of adjustment options. You know who's going to use the equipment, so you can buy something that suits your specific needs, without bothering with making it suitable for other people. Here is a most weight capacity treadmill for commercial use: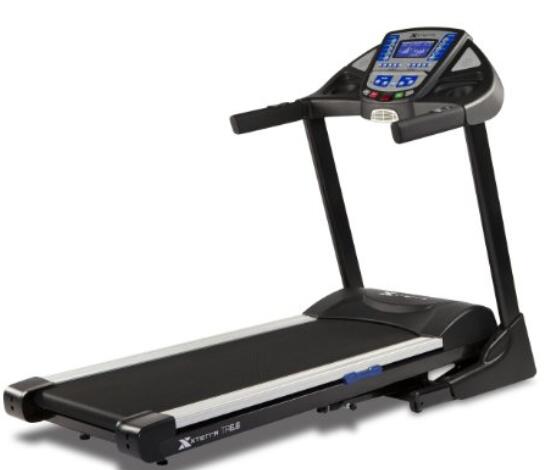 Quick touch speed & incline buttons conveniently located on the handlebars

Quiet & powerful 3.0 CHP continuous duty motor

Max user weight: 350 LB; Largest 20″ x 60″

surface
When shopping for a treadmill, you still need to take a look at the most important parameters, but only after you've decided which category of machine you need. For instance, you have to be aware that the required running space has a direct influence on the total footprint of your device. you need to make sure it fits your room. In addition, you also have to check whether it can pass through your doors. ( Here is Best Size & Designed Portable Treadmill Machines for your convenience). If you don't know how to calculate all these things, you can ask a gym trainer or a shop assistant for advice. Don't forget to show them the plan of your house, with all surface areas and door openings clearly marked. If you pay attention to such details, you can end up with excellent gym equipment to serve you for a very long time.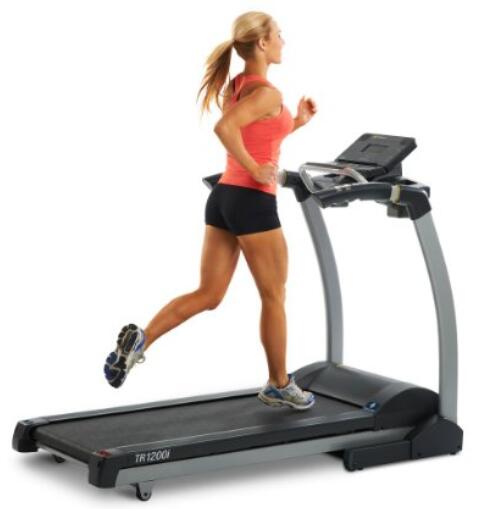 Offers several weight loss, healthy living, sports training, and heart rate programs
Max user weight: 300 LB; Largest 20″ x 56″

surface

Treadmill Doctor "Best Buy" Award for Best New Treadmill; Fitness Professor "Head of the Class".
The Sole f85 treadmill have biggest weight capacity and largest running surface on the market, check more details below: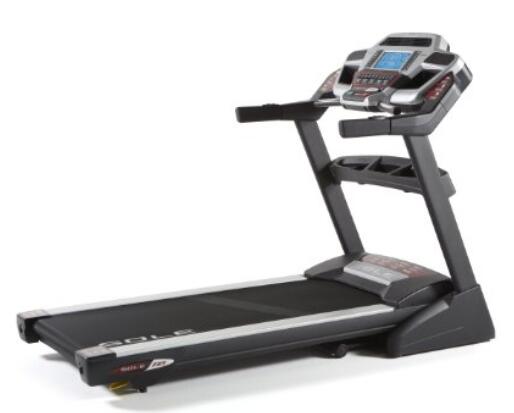 4.0 CHP, DC Type motor with 0.5~12 MPH speed range, 0~15% rack & pinion gear design incline
Max user weight: 265~400 LB; Largest 22″ x 60″

surface

Includes the following manufacturer's warranties against defects in materials and workmanship: lifetime on frame, motor, and deck; five years on electronics; and two years on labor
More home use treadmills for choosing >>