To lose more weight and save more electricity, most people would like to get the best manual treadmill in replacement of motorized type. However, is it true that manual treadmill burns more calories? And how to choose the best manual treadmill for my need?
In this article, we will answer the problem one and one and give you the perfect and ideal manual treadmill for your needs through our expert reviews and buying guides.
Now, let's get started!
What Is the Best Manual Treadmill on the Market?
What Is A Manual Treadmill?
This treadmill relies on your motion for movement. You must put in the effort to keep it running at the speed you wish. Unlike motorized treadmills, when you stop running, a manual treadmill will also stop moving.
Who Would Buy A Manual Treadmill?
Manual treadmills are more likely to be bought by people who work out at home because they are relatively smaller than motorized treadmills. The lack of the motor, which is attached to motorized treadmills, also makes them lighter and more suitable for homes.
What are the Benefits of a Manual Treadmill?
Manual treadmills are relatively cheap because they lack a motor. Their affordability will also ensure that you get your cardio workout done without necessarily investing in an expensive motorized treadmill.
It does not need electricity to run because it is the movement of your feet' powers motion.
It is an excellent option for walkers because they can keep a regulated pace.
It is smaller and requires minimal assembling when bought, making it suitable for home workouts.
What are the Drawbacks of a Manual Treadmill?
Manual treadmills are not as durable as motorized treadmills because they are not made with a more substantial material like a sturdier frame to support it.
Their speed is determined by your speed, which makes it hard for you to set a specific pace or to challenge yourself.
It lacks most computerized features such as those that show how many calories you have burnt.
Are All Manual Treadmills Cheap?
Yes. Non motorized treadmills are relatively cheap when compared to motorized treadmills because they lack a motor and other advanced computerized features that are commonly found in motorized treadmills.
How Does a Manual Treadmill Work?
When working out on a manual treadmill, you will need to push the belt with your feet. The action of your feet against the best will develop the speed that will promote your workout. The inertia of the belt as you move will provide you with the resistance you will need for your workout. Slowing down will also cause the machine to slow down.
Why Are Some Manual Treadmills Expensive?
Some manual treadmills are expensive because of the added features that they have and the variation of materials used in making them. For instance, those that come with a steep incline and can be used for different workouts might be more expensive than normal manual treadmills. Similarly, those that have a console that shows information about your time, speed, pace, calories burned, and distance covered will be more expensive than traditional manual treadmills.
Will a Manual Treadmill Stop When I Stop?
A manual treadmill will slow down and stop when you stop because it is powered by the motion of your feet on the running belt. You must put in additional effort to maintain the speed you want when working out.
Is A Manual Treadmill Worth it?
Whether or not a manual treadmill is worth it depends on the type of manual treadmill that you will get and your workout focus. If you are interested in continually monitoring your workout sessions, the calories you have burned, the speed you have covered, and the distance, you should probably invest in a more expensive manual treadmill that has these features or a motorized treadmill. If your focus is only working out, then yes, a manual treadmill is worth it.
Can You Run on Manual Treadmill?
Most manual treadmills reach a speed of 3.5 to 4.0 miles per hour, which makes then relatively slow and ineffective for running. Manual treadmills are best for walking exercises when compared to running workouts.
Does a Manual Treadmill Burn More Calories?
The amount of calories burned on a manual treadmill relies on how long you will work out. The speed you will be moving at on the manual treadmill, and the number of breaks you will take in between your workout session will also affect the number of calories you burn. This means that if you work out continuously on a manual treadmill for 30 minutes, you are more likely to burn more calories than if you work out on the treadmill for the same amount of time, use less speed, and keep taking a break after every ten minutes.
Is A Manual Treadmill Bad for Knees?
A manual treadmill can be bad for your knees, especially if you had an injury or joint pain. Straining against the best to create the speed you need for a workout can stress the muscles and ligaments on your knee area.
Are Manual Treadmills Good for Walking?
Manual treadmills are suitable for walking. Most people prefer using manual treadmills for walking that for running because they are relatively slow and ineffective for running exercises.
How Do you Exercise on A Manual Treadmill?
You can exercise on a manual treadmill by walking at a consistent pace for a set duration of time. Ensure that you use the treadmill for at least 30 minutes to ensure that you burn some calories. You can increase your workout time and pace as you get used to treadmill.
Top 9 Best Manual Treadmill Reviews
This manual treadmill will offer you everything you are looking for in a manual treadmill to promote your workout sessions. Despite its small size and portability, it is a well-built treadmill with dual flywheels and a computerized monitoring system to ensure you can easily track your workout sessions.
The computerized monitoring system will keep you motivated by showing you the distance you have covered and the energy you have spent at the end of every workout session. After your workout, you can fold up this treadmill and keep it away to save space and for easy storage. The dual flywheels on the treadmill will provide you with a quiet and smooth workout experience. Its running surface measures 13 inches × 42 inches and is suitable for people weighing 220 pounds and below.
This treadmill comes with dual flywheels that create a stable and smooth workout for you. It also has 16 different resistance levels of magnetic tension to ensure that your workout session will have an impact on your body.
It offers you a large running surface (20 × 6 inches), which will provide you with adequate space to workout, without worrying about the possibility of falling off the belt. It has sweat resistant rails that will ensure that you can support yourself during the exercise sessions. It has multi-grip handrails that ensure you can work out in different positions.
This treadmill features a reinforced frame that can accommodate a high weight of up to 325 pounds. It has two flywheels (6 inches), which provide a smooth workout surface that is better than the single flywheels seen in some manual treadmills.
Some of the other features that this treadmill will come with include a magnetic tension resistance, which ensures that you can enjoy a quiet workout session, heart pulse pads to track your heart rate during the workout session, and a wide and long belt to ensure that you do not wobble or fall while working out. It also comes with an extra-long safety handle and three different inclined positions (8, 10, and 15 degrees). It can be easily folded, has mounted wheels that make it easy to move and store the treadmill when not in use.
This manual treadmill comes with two incline levels that allow you to spice up your workout session and enjoy the challenge that an inclined treadmill offers. It has two flywheels and offers you a digital LCD display.
It has transportation wheels to ensure that you can easily put it away after a workout session. It is foldable, reducing the size of space it comes when not in use. It can support people with weights of up to 230 pounds. It weighs 49 pounds. Its dimensions are 47 × 23 × 51 inches. It comes with a one year warranty.
This treadmill comes with a bright LCD display computer system that allows you to track your exercise sessions, the distance covered, speed, total time, pulse rate, and the calories burned. Its handrails are extra strong and provide you with a better grip during exercise.
It comes with eight levels of magnetic tension, which increases the intensity of your training session. It has two flywheels that ensures the belt runs smoothly and consistently. It is lightweight as it weighs 73 pounds making it easy to move to store.
It offers you an effective way of burning calories and lives a healthy lifestyle. It comes with an oversized belt roller, which provides a smooth and consistent walking experience. It has heart pulse sensors, which allow users to measure their target heart rate zones.
It has two different inclinations levels that ensure you can work out at two different inclined positions. This treadmill folds up easily and supports weights of up to 220 pounds. It comes with long handles to support you when you are working out.
This treadmill is designed with a slight inclination and eight different adjustability levels of magnetic resistance to ensure that you can tailor the specific intensity of your workout session to your desired training.
It also comes with a multi-function computerized display system that shows you the time, speed, distance covered, and calories burned during the exercise session. When your workout session is through, you can easily fold the treadmill and store it away. Its running surface measures 14 × 40.2 inches and supports up to 220 pounds.
This treadmill will offer you a running space of 42 inches × 13.5 inches. It does not have a motor and is manually powered. It has an LCD console that is large enough to ensure that you can easily read it while working out. The LCDs the speed, time, distance, calories, and odometer.
It offers you three levels of inclination (7, 8, and 9 degrees). It is lightweight as it only weighs 60.5 pounds. The LCD repeatedly shows your workout data to ensure that you use your hands for support and reduce the likelihood of falling off the treadmill. It has built-in transportation wheels for convenience when you wish to store it away after a workout session.
This treadmill is self-powered and does not come with a motor. It is slightly inclined to ensure that you can enjoy a challenging exercise routine. It has a portable design with in-built wheels that makes it easy to store after a workout.
It has been crafted with heavy-duty construction to promote its durability. It has an LCD feature that enables you to keep track of your workout time, speed, distance covered, and the calories you have burned. It supports people with weights of up to 200 pounds.
---
Factors To Consider For Getting Best Manual Treadmill
When buying a treadmill, it's essential that you know exactly what type will best suit your needs. In order to choose, you have to know the difference between a motorized treadmill and a manual one.
Indeed, there are many factors to consider, and each type of treadmill features its own set of advantages and disadvantages. It can be quite daunting to try and figure out which is the best choice on your own – so read on to learn all you need to know about each type and understand their pros and cons.
Motorized vs. Manual Treadmills
A manual treadmill is a very simple machine – it features a belt which is operated by your feet's movement. As you walk, you push the belt backward, and they start moving. The faster you walk, the faster the belt will move, which means you'll decide its speed simply by changing your pace. Manual treadmills don't have any electrical parts or components, and there's no need to learn how to operate them.
Since manual treadmills function mechanically, they tend to be simpler and more compact than their electric counterparts. They can be a good option for those who live in an apartment or a small home, too – since they are often significantly smaller.
Electrical treadmills, despite being larger and requiring more maintenance, provide its users with a wide variety of pre-programmed routines, allowing you to change factors such as speed or incline level on its electronic console. Depending on which one you'll get, it may allow for extra features such as a calorie tracker, heart rate monitor, fan, and even music player.
Manual treadmills tend to be less expensive than electric ones. Not only they cost less upfront – you can get one for about $200 dollars – they don't use power, which saves on your electricity bill, and need very little maintenance, which cuts down cost as well.
Another advantage of manual treadmills is the fact that you can get a low-end one without much trouble – whilst a cheap motorized treadmill has inferior parts, which will often result in malfunctioning and, thus, in need to buy expensive parts or hire a technician's service. If you're going for a motorized one, it's best to save some cash and get a quality machine.
Here to see: How to Buy Best Price Treadmill for Your Money
Treadmills indeed cause accidents more often than other pieces of exercise equipment. Manual ones tend to be safer since they don't have parts that move automatically, but you must be careful in order not to hurt your back. Manual treadmills tend to make for more strenuous workouts since they have a more significant impact on your hip and knee joints due to lacking belt cushioning systems that motorized ones tend to offer.
Whichever one you choose, you must be careful and attentive when using them – injuries tend to be a result of tripping or falling off the machine when it's in operation. Make sure to follow the owner's guide and keep your treadmill well-maintained.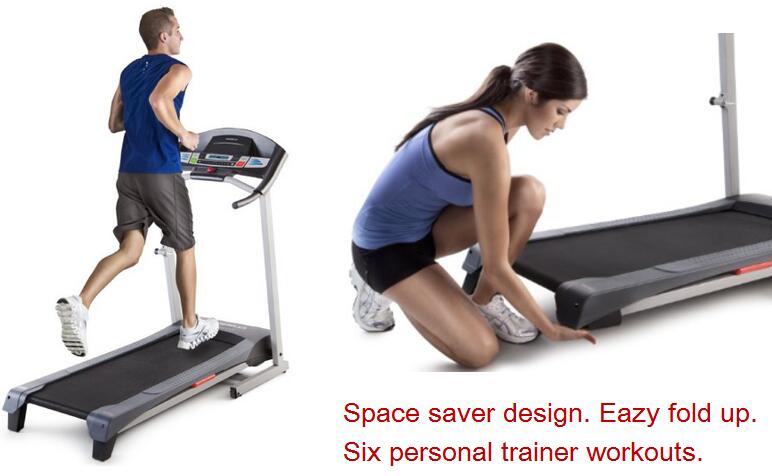 6 Personal Trainer Workouts, a 2-position manual incline, and Comfort Cell Cushioning. Product Dimensions: 68 x 31 x 10 inches ; 117 pounds. Safe for 275lbs people.
More about safety considerations you should know:
Which One Should You Get?
The choice comes down to your particular needs and interests. If you like to keep it simple and don't care for extra features, a manual treadmill is a way to go. It'll also be great for you if you need something portable and easy to store – some of them even feature components such as a folding handle to make it easier to store. If you need to save space, pick one that collapses so you can keep it under a bed or in a closet.
If you want to keep track of your calories or heart rate, or are looking to personalize your workout with more complex routines, a motorized treadmill may be best for you. Motorized ones are best for those who aren't on a tight budget and have plenty of extra space in their home.
There is the best cheap price, one for small room use, easy to fold, and storage: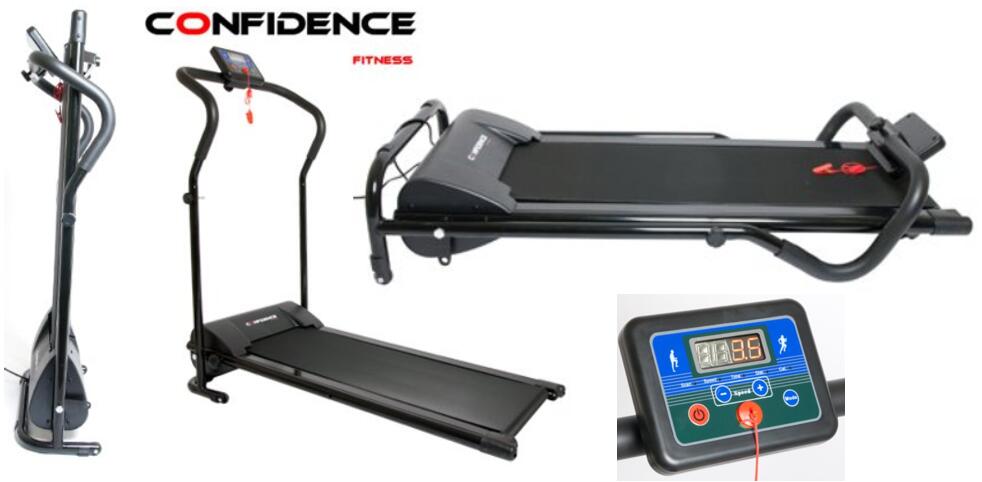 Suitable for users up to 250 lbs. Runway Size: 38.5″ x 14″. Full product size: 49″ x 24″ x 11″.
Tips on Buying Best Non-motorized Treadmill
Leave enough space
If you want to buy an excellent manual treadmill, you'll have to take into account what you want out of your work out. If you are running a lot, for instance, you want a larger one, with enough room for you to move, while those that would rather walk can settle for a smaller machine. Look at its measurements and make sure you have enough room in your home to use it comfortably, too.
Look carefully on the specification
Before you decide on buying a manual treadmill, make sure to look at its specifications as well as reviews from buyers. When you're sure that it suits your needs in the paper, it's time to test the real thing – find a physical store that sells it and ask to prove it. Only after you're sure that you can exercise comfortably on the machine should you consider purchasing.
Below is the best-rated treadmill as the best value treadmill for walking by the Good Housekeeping Institute and by the Treadmill Doctor as one of the "Best Buys" in its category:
---