If you are into fitness or even weight loss, then you know that treadmills are excellent for cardiovascular exercise. You can walk, run, jog, and even do interval or HIIT training using a treadmill, which makes it the perfect tool for fat loss. Also, by regularly utilizing a treadmill, you will speed up your metabolism and drastically improve your stamina, speed, and overall conditioning. So, with that said, if you don't currently have a treadmill, then you may be interested in buying one. Some of the best treadmill brands include Lifespan, Weslo, Nordic Track, Sunny Health and Fitness, Horizon Fitness, Proform, etc. We will now take a closer look at each one of these brands.
What Is the Best Brand Treadmill For Home Use?
Things to Consider In Choosing Best Treadmill Brands
The treadmill is one of the most versatile workout equipment preferred by most people. This is because not only does a treadmill aid in weight loss, but it also helps in toning the body as well. Treadmills are fitted with different programs and features to suit various people and meet different workout techniques. Considering there are a lot of treadmill brands on the market, how do you choose the best brand for your workout's needs? Well, there are a few things that you need to consider when choosing a treadmill to ensure you buy the right brand and the correct model as well.
The following are essential things to consider when choosing the best treadmill brand
Treadmill horsepower
Just like other power fueled equipment, the treadmills are equipped with motors that have different functional powers. The motor's power is measured in horsepower, also referred to as HP. The motor of the treadmill is a vital part to consider since it determines its functioning power. The motor carries the most weight of the treadmill, and it also fuels its general functionality. The motor of the treadmills determines the features that the treadmill has and how it can function. So, always make sure the treadmill you choose has a powerful and durable motor. Ensure the motor does not overheat, especially when in use, and also make sure the warranty covers it.
The cushioning
The treadmills are equipped with zone cushioning located on the running surface. The cushioning is included to ensure the user is comfortable while running on the treadmill. The best treadmill should have at least a 3-zone cushioning system equipped on the running surface.
The display screen
The treadmills are fitted with an LCD screen that provides readings and reports regarding your progress when working out. The report displayed on the screen includes; the heart rate, the number of calories burnt when working out, and the running rate. So, when choosing a treadmill, make sure the equipped screen is large enough for easy and comfortable reading while still working out. Choose a treadmill that has a screen that measures about 4 inches.
The size
Since the treadmills come in different sizes, it is crucial to check out this factor, especially when buying a treadmill for home use. You require treadmills that enable you to work out comfortably without compromising the space around your house. So, measure the area that you want to set the treadmill to guide you in selecting the perfect treadmill for home or gym use. Some treadmills are made in a foldable form, which is an excellent feature for people who need a treadmill that they can keep away after every use.
The ergonomics
You will need a treadmill that has the right size to fit your feet when either running or walking. Thus, to choose the perfect fit for the treadmill, try is out while at the shop. Always select a treadmill that is ergonomically and authentically comfortable and safe for you.
The adjustable levels
Anyone, including beginners, can comfortably workout with treadmills thanks to the available adjustable levels of resistance. The treadmills are fitted with different levels that provide various resistance levels when working out. So, you can start slow and increase the level of resistance as you continue. For example, you can select a walk setting to warm up your body and later select running for improved resistance. Other than adjusting the levels of resistance, you also need a treadmill that you can adjust in speed. So, check out the available speed levels on the treadmills to see if it will fit your workout needs.
High tech features
Some treadmills are designed with connectivity ports for USB gadgets, wireless connectivity through Bluetooth, and even internet. These features help in improving your workout session using the treadmill since you can listen to music to motivate yourself when working out through the Bluetooth, or even Google various workout techniques on the device.
Warranty
A warranty is a crucial document to check out for when choosing a treadmill as it guarantees reliability and durability of the device. The warranties range from 1 year and above depending on the series and even the brand of the treadmill. But, always choose a treadmill that has a warranty covering the motor and labor.
Ease to use
The treadmills are shipped in parts to fit together when setting up. So, always choose a treadmill that is easy to put together. It should also come with a manual guide consisting of easy to follow setups when setting it up.
Best Selling Weslo Treadmills
Firstly, we will start with Weslo treadmills. The Weslo brand offers the most affordable and cheapest treadmills on the market, which start at around $110.
Some of the models that they have include the Weslo Cardiostride 3.0, Crosswalk 5.2T, Cadence R 5.2, and Cadence G 5.9. The Cardiostride starts at $110, and the others cost between $250 – $350.
This is the perfect brand for someone who doesn't want to spend much on a treadmill but still enjoy the benefits.
6 Personal Trainer Workouts, a 2-position manual incline
Safe for

275lbs people

Comfort Cell Cushioning, you'll stay comfortable throughout each stride
The runs have been smooth, durable and impressive for such a large frame
Blue-tinted LCD with priority display
Heart rate monitoring
Best Affordable Sunny Health And Fitness Treadmills
Next, we will look at Sunny Health and Fitness treadmills. This brand is also quite affordable and has treadmills that start at $130. Most of their treadmills cost between $350 – $2,000, which makes them a low to mid-cost treadmill provider.
Some of their models include the SF-T7420M Magnetic Treadmill, SF-T1408M Manual Walking Treadmill, SF-T7514 Heavy Duty Walking Treadmill, Sunny Manual Treadmill, etc.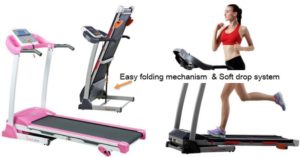 9 Built-in workout programs
Three options of incline levels
large LCD and smartphone/tablet holder
Max user weight: 220 LB; Largest 22″ x 60"

surface

Easy to fold up for storage
Best Cheap Price Confidence Treadmills For Money
You may also like Confidence Treadmills; their models are simply designed but with high quality. Most of their treadmill is about $200; even the best TXI Heavy Duty is under $500.
Confidence Power Plus motorized electric treadmill with multi-function LED display sales nearly 1000 pcs, but only under $200.
The Confidence Magnetic treadmill offers unbeatable value, great for people who need convenience work out at home. You can buy it under $150; this model should be the cheapest one on the market, you can check below:
Most Models Proform Brand Treadmills
The Proform brand of treadmills starts at $400 and costs as much as over $2,000. This brand offers very sleek and innovative looking treadmills that have a wide range of features.
For example, one of their treadmills, the Thinline Threadmill desk, actually allows you to work on your laptop while walking on the treadmill. The Sport 7.5 will enable you to do HIIT training and records endurance, tempo, and peak zones. It also has Google maps that allow you to choose various routes to virtually walk or run through.
Power 995 I is designed to help you get through the race and break your record. It all starts with a 3.0 CHP Mach Z commercial plus motor capable of pushing you to speeds of 12 mph.
These treadmills also offer easy storage as they can be lifted and folded within a few short seconds.
Features:
Large LCD display with iPad compatible
Perfect for home and commercial use
300lbs large weight capacity
Bluetooth enabled
Lifetime warranty
Here you can go and see more incline treadmills at Best Choice Adjustable Incline Treadmill for Workouts
Most Popular Brand NordicTrack Treadmills
The Nordic Track treadmill brand is an extremely popular brand that is widely advertised on television. This treadmill is endorsed by Jillian Michaels, one of the most famous trainers in the world.
She advocates the use of these treadmills for fat loss as they provide a superior calorie burn. They do this by making you walk or run on a 40 percent incline, which burns more than five times the amount of calories of walking.
These treadmills are a bit more expensive and cost between $1,500 – $4,000+. But there also affordable models for you to choose: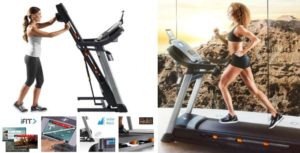 Stay in Control of your workout with a 7″ web-enabled touchscreen
20″ x 60″ tread belt. 3.0 CHP drive System.
0 – 12% incline with the touch of a button, you can quickly adjust your incline anywhere from 0 percent to 15 percent
12% automatic incline matching technology
Speed adjustment system
For serious runners, you can try heavy-duty professional treadmills at Best Commercial Treadmill Machines For Gym
Best Functional LifeSpan Treadmill Brand
Lastly, we will look at Lifespan and Horizon Fitness treadmills. Lifespan treadmills are great for runners of different fitness levels but have ones that are specifically designed for serious athletes. They cost between $800 – $3,000.
The hot sale model is TR1200i folding treadmill under $1000, and the TR4000i folding treadmill is much expensive.
They have specially designed TR800-DT3 and TR1200-DT3 under desk treadmill, a longest hour sitting people buy them for work. If you are tired of common treadmill on the market, the desk treadmill is the best choice for you to try:
Features:
High-quality components suppress mechanical noise and subdue vibration, keeping your focus on the task at hand
Set your preferred maximum speed to either 2.0 or 4.0 MPH, silence beeps and alerts, resume previous speed, switch units of measure, and more
Compact and motorized design to save much space
High capacity and large power
Bluetooth capability
Highly Recommend Horizon Fitness Treadmills
Horizon Fitness treadmills cost between $650 – $1,500+, which makes them a bit more affordable. This brand was voted as a "best value buy" that will certainly give you good value for your money.
Horizon Fitness T101-04 treadmill has an affordable prices under $650, and the 725T Plus treadmill have much cheaper than $450.
Features:
3-zone various cushion
Bluetooth enabled
Smart design with built-in speakers and energy saver mode
Ten speed keys & 10 incline keys
Less motorized noise
Multiple programs
Conclusion
A treadmill is one of the most reliable workout equipment to buy for either home or gym use. If you are a beginner and you don't know what to look for when purchasing this equipment, use the above buying guide to assist you. Buy from a reputable brand to ensure quality and excellent results from using the treadmill. If you are buying online, read the previous customer's reviews to be able to decide on which brand to buy.
---