Given a chance, everyone would wish to have their exercise at home, especially for those who do not need supervision. However, most people feel limited when they realize that they cannot spare a workout room within their houses, probably because there is no space. Such a limitation can, however, be dealt with. Today, the best under bed treadmill is being manufactured, which occupies a tiny space. Some of them can be kept under the bed when they are not in use.
What Is the Best Under Bed Treadmill on the Market?
Benefits of Compact Treadmill under Bed
If you have limited space, you can go for a compact treadmill under the bed and enjoy the following benefits:
It is very convenient
You don't have to relocate to a bigger house to have your gym at home. These treadmills are very convenient in that it only occupies a tiny space. You can just store it under the bed and move it to another area for your exercise. Once you are done, you keep it back under the bed. It gives you the gym experience near you. Before you collect the morning cold, you can jump into your exercise.
They are easy to store
As the name suggests, they come in a foldable compact design. Once you have had your exercise, you can fold it into a small size and store it into your closet or just under the bed. This is not the case for the other types of treadmills, which are vast and unfoldable. They even have wheels to move them from their point of storage to the point of use.
They are relatively cheap
Treadmills under the bed are relatively less expensive than the ordinary treadmills, which would cost thousands of dollars. The treadmills under the bed are therefore cheap since they are small in size but give all the services that one would get from an ideal gym.
Drawbacks of Compact Treadmill Under Bed
Everything that is praised must have a drawback. Treadmills under the bed are more portable but relatively unstable as compared to an ordinary treadmill. Most manufacturers forsake the stability to give the portability that most users look for in the treadmills. This means that you might not be effective when used by heavily built people. It lowers their lifespan.
Additionally, treadmills under the bed are not able to sustain a high speed. This is why they are just essential for personal workout and not for competition or commercial use. When used at high speed, their internal motor gets destroyed very fast.
Maintenance of Treadmill Under Bed
To maintain your treadmill under the bed, you got to follow a few steps. The maintenance should be done regularly to give the treadmill its manufacturer's desired lifespan. The first step in maintaining your treadmill is to ensure that it is powered off. Go ahead and remove the screws that connect the rail to the platform so that the walking platform can be removed. Once this is done, remove the rear and the front rollers from the mounting bracket by merely undoing the Alan screw.
Remove the front and the rare screws as you ensure that the walking board is in its right position well fastened. You can now slide the new walking belt and return the platform to its place.
Go ahead and return the screws in the reverse order of how you removed them. Plug it to the power outlet and start it off at the lowest speed for about two minutes before you get to your preferred exercise speed. Depending on how you are using the treadmill, your maintenance frequency might vary with other users.
Buying Guides of Best Under Bed Treadmill
You need to purchase something that can adequately serve the purpose as to why you choose to buy it. When purchasing a treadmill, for example, you might have to consider the following factors: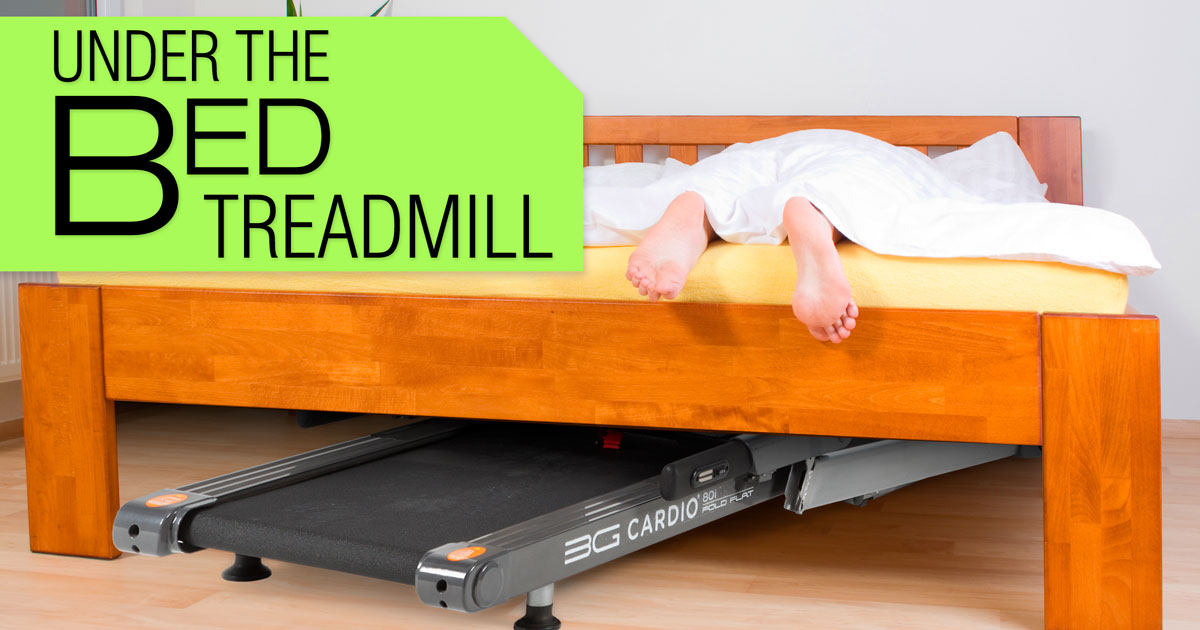 The size
Most of the under bed treadmills are foldable and are believed to be very small in size. However, not all of them are that small. You should ensure that you go for something that can fit your available space. Do not go for too bulky treadmills that will not fit under your bed if you have a small bed.
Supportive weight
You should also check whether your weight is compatible with the treadmill you go for. It will be a waste of money to buy something which cannot adequately accommodate your weight. Remember, most treadmills under the bed do not practically support heavyweights. Ensure that what you go for matches your weight.
Your budget
This is also a critical factor when purchasing a treadmill. Buying an under bed treadmill should practically save you from the daily payment at the gym and also from buying a huge commercial treadmill. This should tell you that it is not worth stretching you beyond your budget. Go for something within your financial budget. Treadmill prices vary.
Click to check different prices of treadmills:
Features of Under Bed Treadmill
Here are some of the features of under the bed treadmill:
It is foldable. Once you are done with your exercise, you can fold it and keep it under the bed or inside your closet.
It has an LCD console tracks, which helps you to track your workout time, the burnt calories, distance, speed.
It also has a USB port that you can use to upload to your lifespan fitness online account for your health reports.
It should come with an inbuilt console speaker which allows you to listen to the music of your choice as you run along.
How to Pick the Best Under Bed Treadmill – Top 3 Recommend
Choosing the best under bed treadmill is very easy. All you need to do is to use the buying guide above as you look at the features that you consider a must-have in an under-bed treadmill. If you consider the elements, you can be sure that you will end up on something worth your money. Do not just wake up and pick anything available for you in the market. Do your market research well to end up with all you need for a workout in a simple under bed treadmill.
Best Under Bed Treadmills
Other types of treadmills you will need: