A home treadmill can be an excellent way to lose weight and improve your overall fitness levels. Although a treadmill can cost you quite a bit of money at first, it can save a lot of cash in the long run. Paying for a treadmill is a lot cheaper than shelling out for a membership at the local gym, and it's a lot more convenient to use. However, if you want a functional treadmill or a running machine that carries high weight capacity, you will need to get the best heavy duty treadmill.
What Is the Best Heavy Duty Treadmill on the Market?
The Standard Weight Capacity For Treadmills
With that said, it's important to remember that many treadmills on the market aren't one-size-fits-all. They're designed for people within a certain weight limit, and people who are seriously overweight may not meet that limit.
Here's what you should know about max capacity and treadmills:
Although there are no industry standards when it comes to treadmill weight ratings, most treadmills are designed for people within a certain weight range. Smaller or more compact treadmills often support a smaller weight range, while larger and heavier treadmills can support a much higher weight range.
Many of the most popular treadmills on the market have a weight rating of 275 or less. People who fall into a higher weight range will need to be prepared to spend more or spend more time shopping around if they want to find a treadmill that you can safely use.
9 Built-in workout programs; 3 options of incline levels
large LCD display and smartphone/tablet holder
Max user weight: 220 LB; Largest 22″ x 60"

surface
More treadmills for reference >>
Why You Should Check A Treadmill's Max Weight Capacity
Many people ignore the treadmill's maximum weight capacity, assuming that a few extra pounds won't make much of a difference. However, it's important to make sure that capacity ranges don't go ignored.
To avoid getting hurt
Although it is possible for people in higher weight ranges to use a treadmill safely, using a machine you're not in the range for is a safety risk. You could be seriously injured if the treadmill falls apart while you're using it.
It's also important to remember that you may be voiding the warranty if you use a treadmill you're not in the weight range for. If your treadmill breaks down or is damaged somehow, you may be stuck covering the costs of those damages on your own.
Features:
Electricity power with a high-torque motor
Adjustable speed for different needs
LCD display monitor times and workout
Folding mechanism for the storage
Large weight capacity to 400 pounds
Remember to check the height
Some people pay attention to the max weight capacity of a treadmill, but don't check to see if there's any sort of height capacity. If someone is very tall or has longer legs, it may be hard for them to safely use a lot of treadmills that are on the market. They'll need to invest in a machine that can support a longer weight span. ( See more Commercial Treadmill Machines For Gym )
Looking for a treadmill that can support your height and weight may seem like a hassle, but it's worth it to make the extra effort. After all, a treadmill is a major purchase. It makes sense to spend more and gets something that's truly right for you.
For people with long legs, there is a very durable treadmill for 400LB weight capacity. The Sole f85 treadmill have biggest weight capacity and largest running surface on the market, check more details below:
Features:
Folding design for small tiny home use
Big buttons for convenient start or stop
Big cup holders for hydration
Emergency stop clip
Multi-display console
Transportation wheels for easy moving
Play It Safe
Because the requirements for testing treadmills aren't very stringent, it's always better to play things safe. If you're at the absolute limit for a treadmill's capacity, you're better off looking for a treadmill with a higher limit. That way, you can continue to use it even if you wind up gaining weight.
If you're really concerned about a treadmill's limitations, you may want to look for a product with an extremely high limit. There are machines available that can support 800 pounds or more. That kind of equipment can safely be used by anyone.
When you buy a treadmill, you need to think about more than your budget. You have to consider whether or not a treadmill actually fits your weight. If you shop around and really research the products available, you should be able to find something that suits your needs.
For people in a lightweight and want a compact treadmill for space-saving, there are cheap price treadmills, TOP 906 sales Confidence Power Plus treadmill for walking in affordable price for your reference: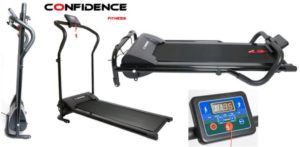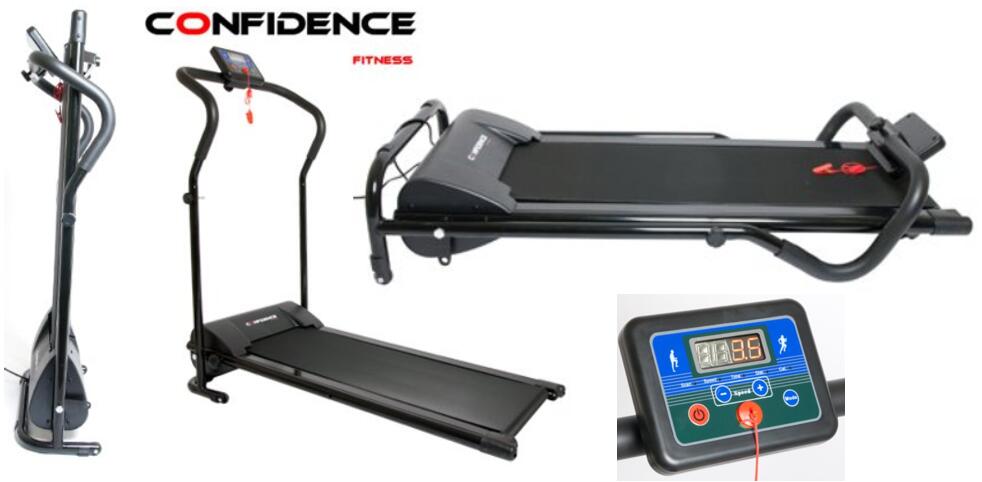 Suitable for users up to 250 lbs
with it's folding design and wheels, it is easy to store and roll away
Runway Size: 38.5″ x 14″. Weight of machine: 53 lbs
---